As of December 4, 2017, the U.S. Supreme Court has granted the Trump administration's request to temporarily allow Muslim Ban 3.0 to take effect while the case is being litigated. This means there is nothing preventing the immediate implementation of the Muslim Ban. 
On June 26, 2018, the U.S. Supreme Court upheld the travel ban, deciding that the president does have the authority to limit who comes into the country. However, the justices did distance themselves from the anti-Muslim rhetoric that was used as evidence in the argument against the ban. 
"Plaintiffs argue that this President's words strike at fundamental standards of respect and tolerance, in violation of our constitutional tradition. But the issue before us is not whether to denounce the statements. It is instead the significance of those statements in reviewing a Presidential directive, neutral on its face, addressing a matter within the core of executive responsibility. In doing so, we must consider not only the statements of a particular President, but also the authority of the Presidency itself." -- Justice Roberts
The ACLU of Alabama is committed to fighting -- in the courts, in Congress, and in the streets -- for freedom, equality, and for those who are unfairly being separated from their loved ones. To Muslims in the United States, to those who are being kept apart by the ban, and to everyone who cherishes religious equality, we stand with you. 
Who Will Be Impacted?
Muslim Ban 3.0 only applies to individuals from one of seven countries (Iran, Libya, North Korea, Somalia, Syria, Venezuela, and Yemen) who meet all of the following:
Outside of the U.S. on the effective date (either 9/24/17 or 10/18/17);
Do not have a valid visa on the effective date; and
Have not obtained a waiver under Section 3(c).
It does NOT apply to any of the following individuals:
Lawful permanent residents (green card holders);
Individuals admitted or paroled into the U.S. on or after the effective date of the new Muslim Ban;
Those with a document other than a visa that allows them to travel to the U.S., if the document is dated on or after the effective date of the new Muslim Ban;
Dual-nationals traveling on a passport from a non-designated country;
Individuals granted asylum;
Refugees already admitted to the U.S.; or
Individuals granted withholding of removal, advance parole, or protection under the Convention against Torture. 
Unlike past decisions, this decision does NOT allow for an exception for "Bona Fide Relationships" (i.e., close family ties such as a parent, spouse, child, sibling).
Impacted Countries
Iran
All immigrant and nonimmigrant entry is suspended for Iranian nationals except for those with F, J, or M visas.
Those with F, J, or M visas will most likely be subject to "enhanced screening and vetting requirements."
Libya
All immigrants and nonimmigrants on business (B-1), tourist (B-2), business/tourist (B-1/B-2) visas are suspended for Libyan nationals.
North Korea
All immigrant and nonimmigrant visa holders are suspended for North Korean nationals.
Somalia
All immigrant visas are suspended for Somali nationals.
Non-immigrant visas are permitted, subjected to heightened screening.
Syria
All immigrant and nonimmigrant entry is suspended for Syrian nationals.
Venezuela
The entry of officials of government agencies of Venezuela involved in screening and vetting procedures and their immediate family members, as nonimmigrants on business (B-1), tourist (B-2), and business/tourist (B-1/B-2) visas, is suspended for Venezuelan nationals. 
Additionally, nationals of Venezuela who are visa holders are subject to additional measures. 
Per Section 3(b)(v) of the new Muslim Ban, certain Venezuelans traveling on diplomatic visas are not affected by this order. 
Yemen
All immigrant visas and nonimmigrant business (B-1), tourist (B-2), and business/tourist (B-1/B-2) visas are suspended for Yemeni nationals. 
*Sudan
Sudan was removed from the list of restricted countries in the new Muslim Ban.
Sudanese visa holders who were impacted by earlier Muslim Bans should now be able to reapply for visa. 
Waivers Seeking an Exception to Muslim Ban 3.0
A "waiver" is permission to obtain a U.S. visa, even though the Muslim Ban says you are not eligible to get one. Muslim Ban 3.0 states that banned individuals can ask for a waiver to request an exception that would allow the visa to be issued as long as they can show that:
Denying entry would cause the visa applicant undue hardship;
Entry to the U.S. would not pose a threat to the national security or public safety of the U.S.; and
Entry would be in the national interest of the U.S.
The law states that a consular officer or Customs and Border Protection official has the authority to grant a waiver on a case-by-case-basis. The law also lists several examples where a waiver can be granted (such as needing urgent medical care, reuniting with immediate family members in the U.S., business ties etc.).
Unfortunately the waiver process has been very unclear and applied unevenly. The government has provided very little guidance on the waiver process. Here are some trends we have seen:
There is no formal process to request a waiver. There is no available form online to fill out. Any documents submitted to the consulate outlining why you qualify for a waiver may or may not be accepted.
Many consulates have been notifying individuals that either:
The consulate is denying the waiver for their case, stating that the visa is "refused under 212(f)":
In this case, there is no appeal process for the decision. Many individuals are submitting waiver requests, however, it is unclear if they are being accepted.
The consulate is considering their case for a waiver:
In this case, the consulate may or may not ask you about the above criteria in the interview; the consulate may or may not accept a written letter outlining why you meet the above criteria either during your interview or if you try to email/mail it in; the consulate may or may not refer your case to Washington D.C.
If you have an upcoming interview before a consulate please seek legal advice about the waiver process.
As of May 15, 2018, 655 waivers have been confirmed to have been granted since the Ban went into effect. At this point it is very unclear how these cases will be processed and what the next step is until the government issues more guidance. Information around waivers can change very quickly, so seek legal help (while watching out for scams) and please check back frequently.
How to Get Legal Help
If you or someone you know is impacted by this Muslim Ban, or would like to request a "Know Your Rights" presentation, please contact one of these organizations. 
Information compiled by Council on American-Islamic Relations (CAIR) in Alabama, CAIR California-San Francisco, and the Asian Americans Advancing Justice-Asian Law Caucus (AAAJ-ALC).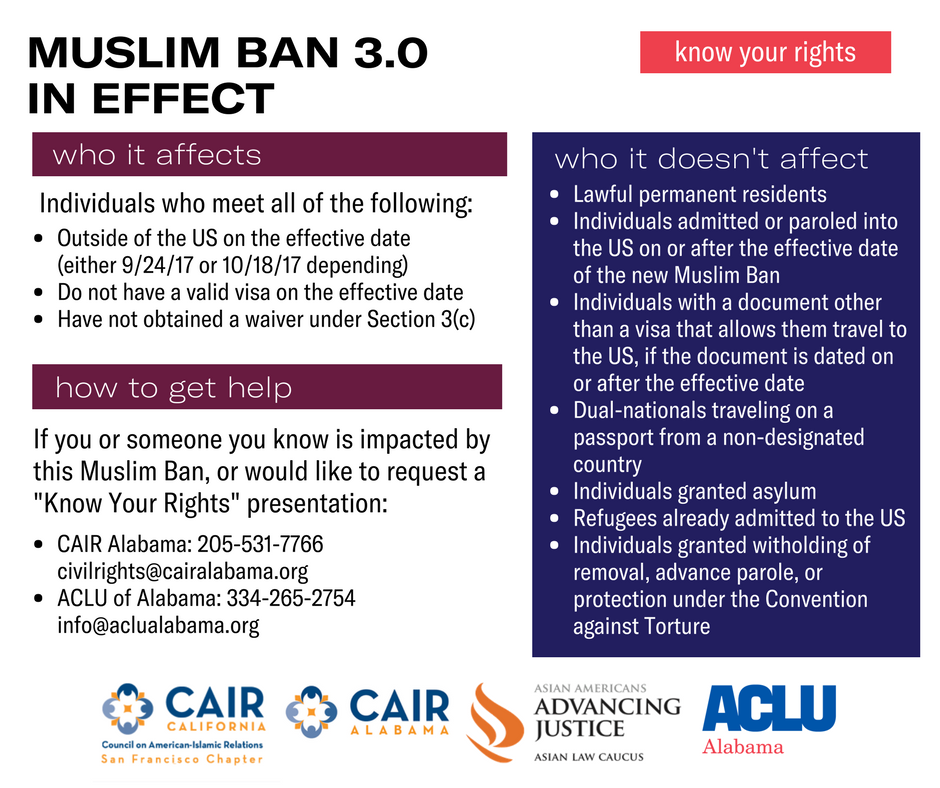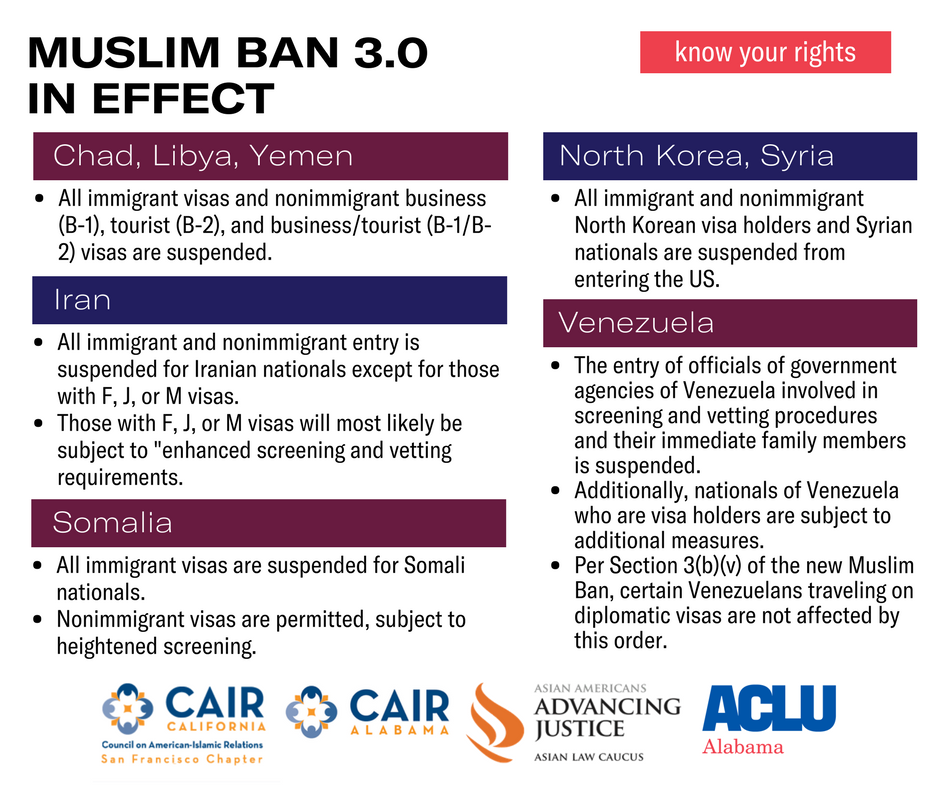 Page last updated: June 27, 2018