Fiscal Year 2023 Annual Report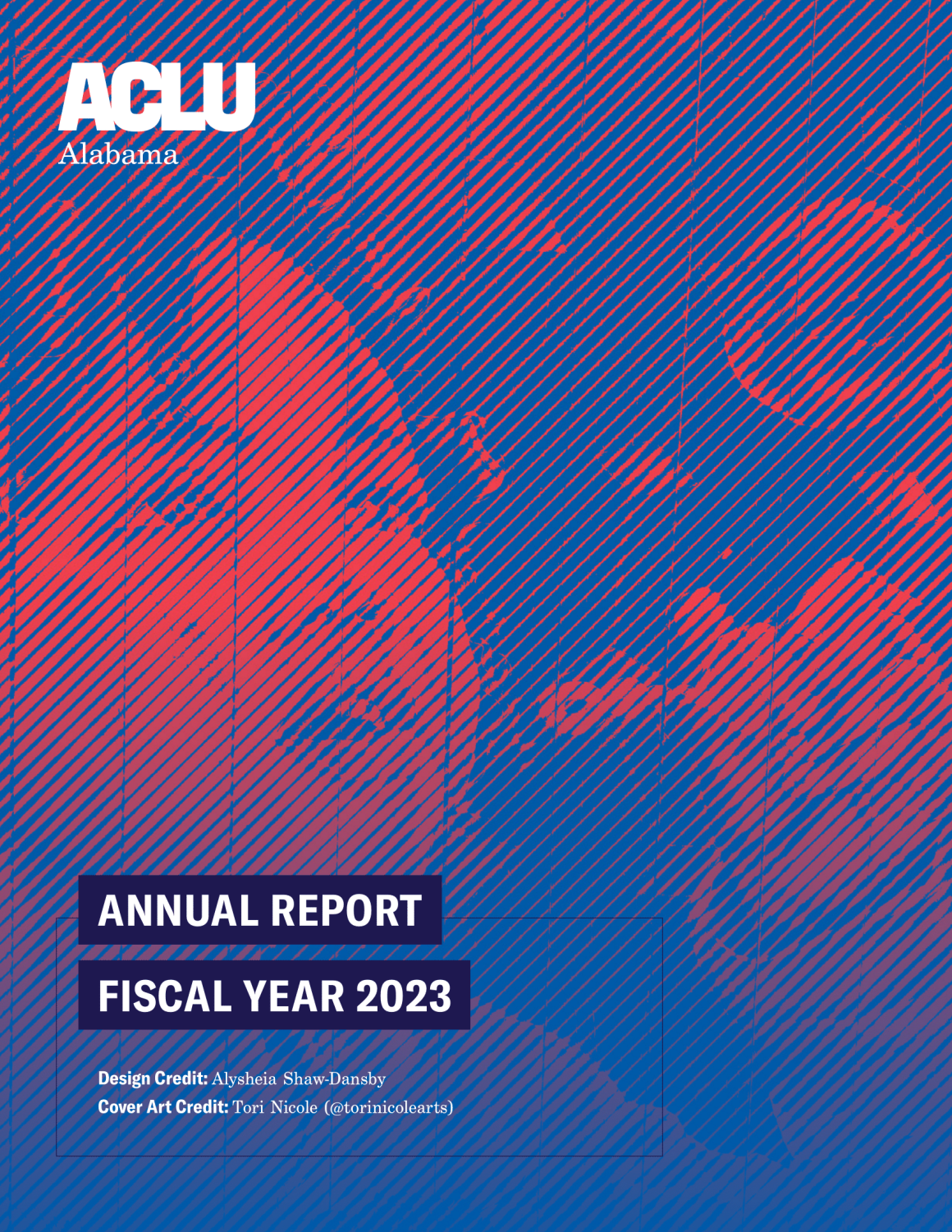 Developed and designed by Alysheia Shaw-Dansby.
---
A Letter from our Executive Director
In the wake of the country experiencing political unrest and superimposed threats to our rights and freedom, we are working collectively to build the state, region, and nation we want to see.
For the ACLU of Alabama, 2022 has been a year of growth in our office and within our coalitions. Internally, our team and capacity has expanded to accommodate 15 full-time staff members, and externally, our collaborative efforts with other Alabama organizations grow stronger daily. We are more robust, effective, and present as a unified front when facing these increasingly unending attacks against our rights.
This year, in collaboration with our partners, we managed a voter protection hotline, fought for fairer districting for voters in historically disenfranchised Alabama districts, and opposed the construction of more prisons in Alabama. We also committed to striving to guarantee voting rights for all Alabamians, supporting the reform of Alabama's criminal legal system, and persisting in regaining reproductive freedom statewide.
Together, we're fighting for a more just and equitable Alabama, and we hope to have your continued support as we move onward in this work.
In solidarity,
JaTaune Bosby
Executive Director
---
Our Team
Staff
Senior Leadership Team
JaTaune Bosby Gilchrist, Executive Director
A.J. Reese, Director of Finance and Operations
Tish Gotell Faulks, Legal Director
Dillon Nettles, Policy and Advocacy Director
Jose Vazquez, Communications Director
Communications
Jasmine Peeples, Digital Media Strategist
Adam Muhlendorf, Media Strategist
Beth Shelburne, Investigative Reporter
Development
Elizabeth Shannon, Development Director
Alysheia Shaw-Dansby, Donor and Brand Strategist
Finance and Operations
Kiesha Favor, Operations Administrator
Teresa Galloway, Accounting Clerk
Legal
Alison Mollman, Senior Counsel
Nichelle Cunningham, Paralegal
Organizing
Stef Bernal-Martinez, Organizing Director

Board of Directors
Kira Fonteneau, President
Mark Lester, Immediate Past President
Glory McLaughlin, Vice President
Evan Milligan, Secretary
Anil Mujumdar, Treasurer/National Rep
Xandi Andersen
Michelle Browder
Carmen Chambers
Heather Fann
James Flowers
Rita Goyal
Kenneth Hudson
Roberta Jackal
Kindred Motes
Monique Okoye
Hank Sherrod
Joel Sogol