Today officially marks one month until the General Election. In these uncertain times where civil rights and liberties are being threatened every day, voting is one of the most impactful ways that you can fight for yourself and your community. This election will determine not just the next President of the United States, but local and state officials here in Alabama.
With November 3rd swiftly approaching, it's crucial to plan how you will vote NOW. This month of October is full of voting deadlines and missing one can affect you exercising your right to vote this election cycle.
If you've already made your own plan to vote, help your friends and family by sharing the graphic below and making sure they know their options this election season.
As of now, you're still in the clear. But it's definitely time to make stuff shake.
First things first, make sure that you are registered to vote.
It only takes a moment to verify your voter status and polling location.
Second, decide how you will vote. Due to the COVID-19 pandemic, registered Alabama voters have three voting options for the General Election:
On-site absentee (Deadline: October 29)
Mail-in absentee (Deadline: November 2)
In person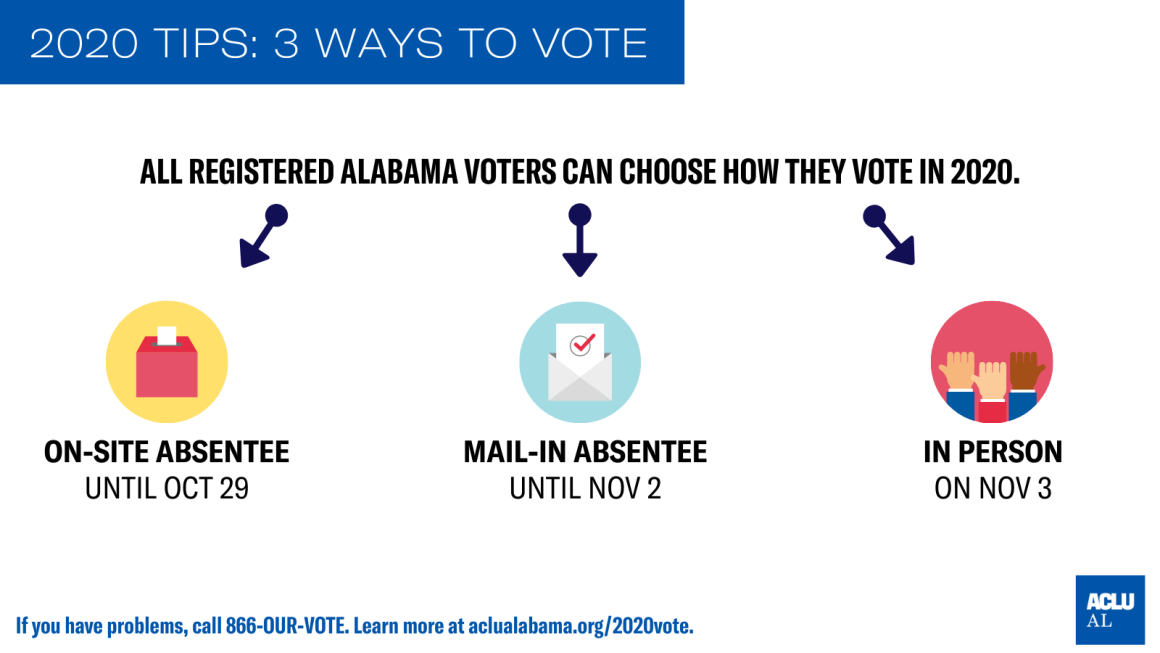 Absentee voting is the safest option for many this election cycle, and October 29 is the deadline to apply for an absentee ballot. Learn how to request an absentee ballot and return on-site or by mail. In-person voting also remains just as critical for voters who want to head to the polls on election day.
Third, know your voting rights. If someone attempts to interfere with your or anyone's right to vote, it may be voter intimidation and a violation of federal law. If you have problems voting or have additional questions, please call the national, non-partisan Election Protection hotline:
English: 1-866-OUR-VOTE (1-866-687-8683)
Spanish: 1-888-VE-Y-VOTA (1-888-839-8682)
Arabic: 1-844-YALLA-US (1-844-925-5287)
Bengali, Cantonese, Hindi, Urdu, Korean, Mandarin, Tagalog, or Vietnamese: 1-888-274-8683
This upcoming election is said to be one of the most consequential in America's history. Make sure you have a chance to be a part of this moment by making your voting plan today.